THE FAQS PAGE IS NOT OPEN FOR EVENT QUESTIONS ONLY
2019 Event Questions will be posted at the bottom of the page as they are officially responded to.
Please submit ALL event questions directly to the Georgia Lineman's Rodeo Association using the contact form below or by emailing us at rodeoemc@yahoo.com. Please include your contact information with your submission. Before you submit a question please check the questions below as you may find your answer there.
Events Committee Members:
Tony Jordan, Committee Chair | Calvin Vallee, ECG | Bobby Fincher, Snapping Shoals | Ronnie Poston, Cartersville Electric | Tim Burns, Jackson EMC | Sam McCrary, Flint Energy | Blake Manning, Crisp County Power | Wayne McConnell, Jackson EMC | Les Wilson, Marietta Power
Q: Journeyman switch change question. Will the switch bracket have a bolt in the top and bottom or just the top? Will the number 6 copper be bare or coated?
A: There will be a D.A. Bolt in the top and bottom, we are planning to use #4 soft drawn bare copper.
Q: Can you please specify what Kv lightning arrestor and manufacture? Is lightning arrestor going to have copper strap that comes with tank mount bracket? Question are for apprentice event.
A:
Q: The apprentice would like to know will this be the standard polymer lighting arrestor mounted on an L bracket?
A: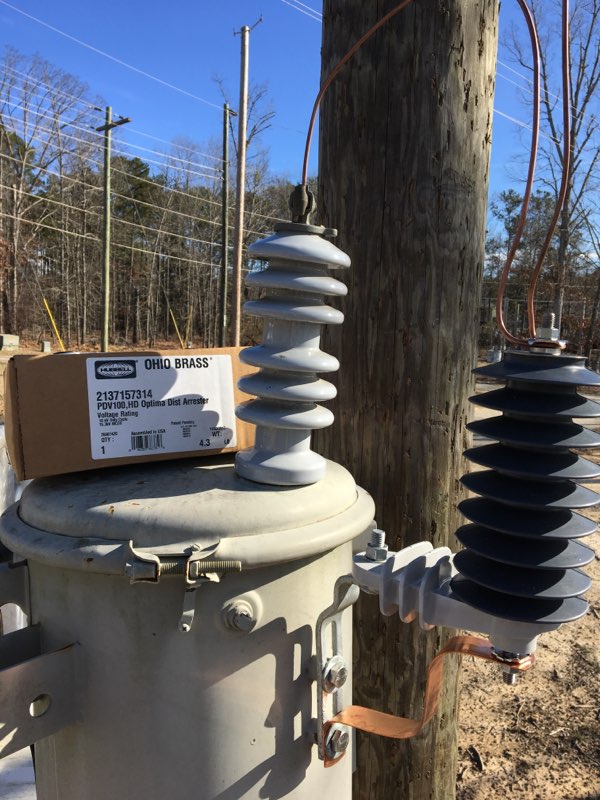 Q: In the journeyman switch relocation event will there be a new fuse barrel supplied with the switch or will the existing barrel be reused? If a new barrel is supplied will the fuse have to be installed under time?
A: There will be a fuse barrel already fused with the switch provided.
Q: Will the copper for the switch relocation be pre cut to length?
A: No team will cut their own jumpers.
Q: Could you tell me the length of copper for the journeyman switch relocate?
A: Team will be given two pieces of copper to cut for the jumpers.